Newburyport Range Lights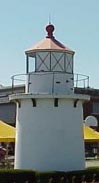 Newburyport Rear Quick Facts
Year Station Established: 1716
Is the Light operational? No
Year Light First Lit: 1873
Year Deactivated: 1961
Shape: Square
Tower Height: 53 ft.
Original Optic:
Present Optic: None
Existing Keepers Quarters? No


Newburyport Front Quick Facts
Year Station Established: 1716
Is the Light operational? No
Year Light First Lit: 1873
Year Deactivated: 1961
Shape: Conical
Tower Height: 15 ft.
Original Optic:
Present Optic: None
Existing Keepers Quarters? No

Newburyport Range Lights
Newburyport, MA
More Photos
(7 photos, 234KB total download)
Last Visited: August, 2000

History:
Newburyport Harbor Rear Range Light is a historic lighthouse on Water Street near the Merrimack River in Newburyport, Massachusetts. It was built in 1873 as one of a pair of lighthouses for guiding ships up the river to the city's harbor, and was added to the National Register of Historic Places in 1987.

Range lights, or leading lights, are pairs of beacons used to guide ships and ensure safe passage. The beacons consist of two lights that are separated in distance and elevation, so that when they are aligned, with one above the other, they provide a bearing. The original range lights at Newburyport Harbor were maintained by private subscriptions. By 1872 Congress had appropriated funds to establish publicly maintained range lights after one of the previous pair was destroyed in a storm.

When the range lights became active in 1873 local caretakers took responsibility for them. The job was later transferred to Plum Island lighthouse keepers.

In 1961 the range lights were decommissioned and the rear light became private property. Today it is available to rent for events and offers a view of the river and city.

Source: Wikipedia


Hours:
Neither light is open to the public but from the parking lot for the rear range light building you can view both lights.
Latitude/Longitude: 42.811243,-70.866114
Nearest Address: 61 Water St, Newburyport, MA
Directions:
From Interstate 95 take Route 113 towards Newburyport.
As soon as you cross over Route 1 take a left onto Summer St. There should be a sign for Route 1 North pointing left as well.
At the bottom of the hill take a right onto Merrimac St.
In the center of Newburyport continue straight. The road turns into Water St.
About 1/4 mile past the center of town, on the left, you'll see the brick rear range light and the Coast Guard Station just beyond.
All pages and photos
copyright © 1996-2023
,
Gary P. Richardson
and
Anna P. Klein
, unless otherwise noted.
No images or content on this site may be copied or reproduced without prior permission.
Visit Anna and Gary's Website at
https://www.photosetc.net
Back to Top