Cleveland East/West Lights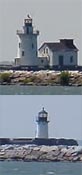 Cleveland West Quick Facts
Year Station Established: 1831
Is the Light operational? Yes
Year Light First Lit: 1911
Year Automated: 1965
Shape: Conical
Tower Height: 67 ft.
Original Optic: 4th Order, Fresnel
Present Optic:
Existing Keepers Quarters? Yes
Year Constructed: 1911
Number of Stories: 1.5
Architectural Style: Integral
Construction Materials: Iron

Cleveland East Quick Facts
Year Station Established: 1836
Is the Light operational? Yes
Year Light First Lit: 1911
Year Automated: 1959
Shape: Conical
Tower Height: 25 ft.
Original Optic: 5th Order, Fresnel
Present Optic: 300mm
Existing Keepers Quarters?

Cleveland West Breakwater/East Pierhead Lights
Cleveland, OH
More Photos
(5 photos, 63KB total download)
Last Visited: August, 2002

History:
West Breakwater

This conical, 30 foot tall cast iron tower is located at the end of a stone pier which stretches out into Lake Erie from the breakwall protecting Cleveland's inner harbor. A fog signal building constructed in 1910 is attached to the tower. This light and the East Pierhead Light about 1/2 mile away mark the entrance to the Cuyahoga River. It is still an active Coast Guard facility.

East Pierhead

This light stands at the west end of a 4-mile long breakwall that protects the Cleveland shoreline. It is a conical, 25 foot tall cast iron tower. Along with the West Pierhead Light, it marks the entrance to Cleveland's inner harbor and the Cuyahoga River. Still active, it is now solar powered.

Source: Internet Public Library

Latitude/Longitude: 41.50959,-81.716793
Nearest Address: 600 Erieside Ave, Cleveland, OH
Directions:
Although best seen by boat, you can see the lights from a distance from behind Brown's Stadium.
From I-90, take exit 172-A and get onto E. 9th St. heading towards Jacob's Field (where the Cleveland Indians play)
Take E. 9th St. for 1.1 miles. After you go under Route 2, you'll see the Rock & Roll Hall of Fame on your left. Take a left onto Erieside St.
Erieside St. will take you past the Science Museum, then around behind Brown's Stadium. At the far corner of the stadium is a parking entrance to the city terminal (shipping terminal). Park somewhere along there and walk to the waterside. To your left, off in the distance, you'll see both lights.
All pages and photos
copyright © 1996-2023
,
Gary P. Richardson
and
Anna P. Klein
, unless otherwise noted.
No images or content on this site may be copied or reproduced without prior permission.
Visit Anna and Gary's Website at
https://www.photosetc.net
Back to Top